ASM Planner for a large sales force (Wells Fargo)
The Client:
Wells Fargo Financial, Inc., a major division of Wells Fargo & Co. Home and Consumer Finance, is one of the largest and best run auto finance companies in the country. Since merging with Norwest Bank, the division has grown substantially throughout the nation and Canada.
Challenge:
Wells Fargo Financials is growing at an incredible rate. Starting less than six years ago, the division will do over $5 billion in revenue in 2007. This phenomenal growth is a testament to the Wells Fargo way of doing business and the people behind this growth. Early in the division's history the senior managers engaged Tim Freeman of Efficient Marketing to help them establish the "Play Book". The Play Book is a complete and comprehensive plan detailing how Wells Fargo is not only going to compete in the auto financing world, but will become the number one lender for the more than 20,000 auto dealers in North America. A major part of the Play Book is the daily/weekly/monthly activities that each sales person (titled ASM or Area Sales Manager) plans for every auto dealer in their territory.
Quoting Tim Freeman, "What we measure we can improve," the Wells Fargo senior manager in charge of the project, Bob Church, came to Media Net Link asking us for a system based on our popular CoachSelling methodology of measuring activities, adapted to the unique aspects of the customized Play Book. When Bob came to us, the division was already using a version of the planning tool through a system of Excel spreadsheets and emails that was already past the point of unworkable due to their quickly growing 400 member sales force. Bob was looking for a company that could take what the sales teams were already using and create a web based tool, which would enhance the power of the planning as well as make it more efficient to use, track, and report. Efficient Marketing and Media Net Link were well acquainted with Wells Fargo, having worked on other projects in other divisions together in the past. We understood the Play Book and knew that to be successful, we had to be willing to customize our CoachSelling tool and provide a familiar framework for any new features we added to the system.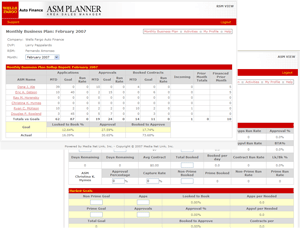 Solution:
Media Net Link had already developed CoachSelling, a suite of web-based tools for streamlining sales activities. Wells Fargo was already using the CoachSelling suite for pipeline management and sales coaching in other parts of the bank. Because CoachSelling was built to be flexible and easily configurable, we saw an opportunity to use it to help Wells Fargo Financial manage their ASMs as well.
Working directly with a dedicated staff, we were able to quickly bring Wells Fargo personnel up to speed on the flexibility of configuration inherent in the tool. We gave the team access to the CoachSelling development site, which afforded them the opportunity to try out different configurations and shop around their concepts to future users. Working directly from the Play Book, we built a mock-up of a new, customized system using screen shots of the eventual site. In just two weeks we had the design finalized and were ready to code. From start to finish, the project took only 10 weeks. Media Net Link was able to design, code, test and train all users before the deadline established at the beginning of the project.
Result:
The results were not only immediate, but far beyond Wells Fargo's original expectations. "We now have a tool that monitors every ASM's daily activity as they interact with our clients. What used to take them hours to prepare can now be done in minutes. We quickly saw the benefits of the new system over the old Excel spreadsheet days. We now have underwriters on the system too, and their interaction with the ASMs is creating additional opportunities in increased business that we never saw before. Having a system ASMs can log on to anytime, anywhere, creates incredible leverage for our sales force." - Bob Church, District Vice President, Wells Fargo Financials
Because the ASM Planner was based on a prior system, training was easy. ASMs signed on and were on their way immediately. Today, a senior manager can log on and instantly see how many dealerships will be contacted on any day, week or month. In addition they can see what the call will be about and whom the ASM will be meeting. An ongoing run rate compares new business against monthly goals and allows the regional managers to see at a glance who is on track and who is falling behind. A key feature of the new system is the powerful Dealer Data base which houses all the information required to provide superior service by the ASMs and Underwriters. As one ASM put it, "It takes me less than a minute to update a record. All the information is easy to add and review. Now instead of being a data entry person, I can spend my time where it is most needed- in front of the client."