Our Story
Media Net Link was founded in 1994 by Ric McGredy, a visionary whose goal was to help companies take advantage of the then rapidly growing Internet. After spending 15 years in the corporate world at familiar companies such as Bank of America, Apple Computer and Sun Microsystems, Ric decided to take the plunge and form Media Net Link, a company dedicated to providing the highest level of customer service to clients who are usually provided no choice other than corporate IT for their technical needs. Ric's aim was to help clients solve technology needs via the Internet.
A proud husband, father of five and foster father to over 250 special-need infants and toddlers, Ric wanted to build a company that balanced his career ambition with his busy family life. He founded MNL upon the principle, "clients and employees come first." For our clients, that means working efficiently and effectively on every project to deliver every project on schedule and within budget. For the employees, that means encouraging the talented technical and project management team to continually learn and develop in their careers while still having time for their families.
Ric McGredy passed away in August 2003. Despite the initial shock and grief of Ric's loss, the company's dedication to Ric's dream never faltered.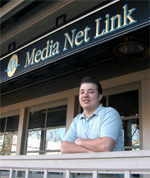 Media Net Link was fortunate to have Ric's oldest son, Ryan McGredy, step in at the helm when he was most needed. Ryan has been a part of MNL since its inception. Starting while still a student at UC Davis, Ryan spent his weekends and holidays working alongside his father to understand every facet of the MNL business. Ryan joined MNL full-time upon his graduation in 2000, and now carries on the traditions, philosophies and relationships his father created as MNL's President. This continuity enabled MNL to continue delivering the same level of service and commitment to clients despite our tragic loss.
With over 1500 successful projects completed over more than 10 years, MNL continues to deliver successful solutions for clients who use us as a partner in creating Internet-based business solutions.